How a Project Manager Leverages Lotus Notes
Mark Manager describes how Lotus Notes project manager software simplified the management of his projects and team.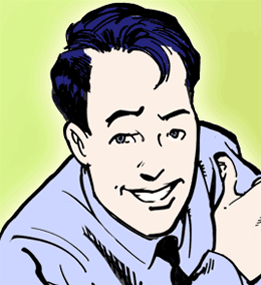 Experience Tracker

Register for a Demo Today
"Advances are made by those with at least a touch of irrational confidence in what they can do."

- Joan L. Curcio
I hate pizza.
Pepperoni or cheese, meat-lover's or vegetarian, it doesn't matter. I learned to hate them all. You see, as a project manager at Bizco, I'm responsible for every facet of a project, from customer relations to team management. And when I found myself juggling multiple projects, that meant long days, late nights... and pizza.
Then Victor went and bought Tracker Suite for our Lotus Notes platform, which has saves me time and effort (and appetite!). It simplifies most of my duties as a project manager, allowing me to focus on leading projects, not managing processes.
You should see my Flash presentation (Joe helped me make it!). In it I talk about how Tracker improved Bizco's project management.. All of this will happen in a new window, so if you have any questions just come back here.
The features that have helped me most are:
Project Tracker - As a project manager, I need to manage schedules, people and resources for multiple projects. With Project Tracker, I define the project and import a process template if a suitable one is available. From there I can schedule meetings, assign tasks, create status reports and manage project documents. As project documentation is created which requires my approval, it can be routed to me for on-line approval.
Personnel Tracker - This is Tracker Suite's HR module. It gives me a Web accessible employee directory, which allows me to easily get in touch with anyone I need to, even if I'm working out of the office. Personnel Tracker also provides a comprehensive employee catalog, including their skills and training, which helps me to quickly and easily build effective project teams.
Customer Tracker - When I need to look up customer information, such as contacts, history or support contracts, I just open up Customer Tracker. What's even better, we can give our customers the ability to log on to our company website and submit project requests!
Time Tracker -I need to know how my project team members are managing their time. With these Lotus Notes time cards, I can see how much time they're charging to project tasks, as well as ETC. Members of my project team who are working on location, out of the office, can report time over the Web.
Purchase Tracker - It's great having a simple way of managing the purchase requests that come across my desk. With Purchase Tracker, I can quickly review any purchase order for my projects, and approve or disapprove them with a click. There's a world of difference between this and the old paper routing systems we used to have. Like time cards, these purchase orders can be submitted over the Web.
Tracker Suite ties it all together, simplifying workflow. Project schedules are seamlessly integrated with everyone's personal Calendars, Schedules, and To Do Lists. With Tracker Suite, I can be sure that we're all on the same page. Also, it's great being able to file our key communications into our shared portfolios. One trick that comes in VERY handy is that I can copy project information, from a view in Project Tracker, then paste it as a table into an email. I like to email project status views this way, as a quick heads up to Victor or my project team.
Data Warehouse - This reporting engine puts me a mouseclick away from all the project intelligence I need! With its pivot tables and drag-and-drop capability, I can drill down to the information I need. With its project dashboards and on-time delivery reports, I can stay on top of ALL my projects.