Simplified Workflow with Lotus Notes
Joe User, a general staff at Bizco, discusses how Lotus Notes has simplified the workflow of his daily activities, including task activities and time reporting.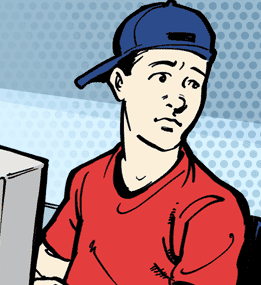 Experience Tracker

Register for a Demo Today
"The secret of success is making your vocation your vacation."

- Mark Twain
I am so totally unappreciated.
I don't think they understand- I'm the backbone of Bizco, the glue that binds, the gum that sticks- eh, well maybe not.
But my work does require me to be in sync with the rest of Bizco. Project development isn't a one man show, I need to be in touch with other departments to make sure the projects headed in the right direction, has the materials needed, the expenses covered, and the time allotted. On top of all that I have my regular responsibilities, like managing the Bizco website, or keeping on top of my skills. Now THAT's work- and I don't care what Sally says.
Of course, that Tracker Suite bag of goodies Vic got his hands on has made things a lot easier. It's automated a lot of the processes I had to drag through before, which gives me more time to work on my projects.
Y'know, if you really want to see Tracker in action, check out my Flash presentation. I'll show you how Tracker helps Bizco employees report time and expenses. This presentation will pop up in a new window, so stay cool- I'll still be here.
These are the apps and features that help me the most:
Purchase Tracker - As with time cards and expense reports, these online purchase requests are secure and easy to use. With simple click, I can check the status of my purchase request and whether it has been filled. I can even determine if only a portion of the purchase request has been received. I need to make sure that I complete my purchase requests properly and submit them for approval in a timely manner. I can review the status of purchase orders along the fulfillment process using my personal In/Out Boxes.
Finally, I no longer have to maintain additional copies of data from Project Tracker and Customer Tracker in my own schedule and To Do Lists. With Tracker Suite simplifying workflow, it's automatically done for me. Any assignments, scheduling issues, or meetings that have my name on them instantly show up in my personal Calendar, consolidating my information and making things easier to manage. I need to monitor my personal To Do list and make sure my tasks are completed. I also need to manage my own personal Calendar and make sure that I follow through on scheduled assignments and attend meetings.