How a Domino Intranet Simplifies Administration
Ashley Admin reveals how a Domino intranet solution streamlines communications and monitoring project related expenses and billing.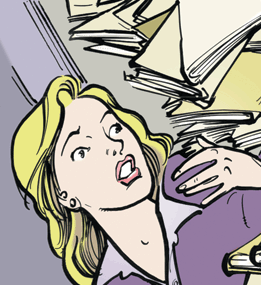 Experience Tracker

Register for a Demo Today
"I never worry about action, only inaction."

- Winston Churchill
My time is money. More accurately, my company's money.
I have to stay on top of all aspects of our business: projects, finances, personnel- you name it, I've got to know it. It was always a struggle, our workflow was horrible! I had to sift through mountains of files for reports and customer information, chase people down for status reports, and keep track of billing and expenses. I was breaking my back just to keep up with the week before!
Then Tracker Suite came along, and it was the workflow solution that we needed! Through our own Lotus Notes infrastructure, I have a Domino intranet that automatically gathers and store the information I need. No more running around, no more confusing paper trails. Up to date information about what I need to know is right here, whenever I need it. Now I know what's going on in my company. Now I can do my job.
My Flash presentation might help you understand the impact of the Domino intranet provided by Tracker Suite on my job and our organization's workflow. I can tell you how Tracker streamlined the administration processes at Bizco. The presentation appears in a new window, so I'll still be here (hard at work!) if you need me.
The applications I've found the most use for are: