Improve Payroll Services with Lotus Notes
Patty Payroll reveals how streamlined processing for timesheets and expense reports simplifies payroll services.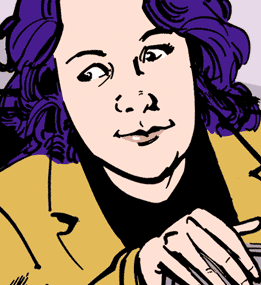 Experience Tracker

Register for a Demo Today
"Money will never make you happy, and happy will never make you money. That may be a wisecrack, but I doubt it."

- Groucho Marx
Before the Big V bought Tracker Suite, I was about to start bringing my son's rollerblades to work. Our payroll services were a mess!
Every day, I was chasing people down to move payroll along. Either someone hadn't submitted a time card, or their supervisor hadn't approved it. If there was an error on the card I had to chase both of them down again! The same problem would pop up with expense reports. They want to be reimbursed for a business expense? No problem- but I need an expense report to do it, something they just didn't seem to understand (Joe was the worst!). And if there was an error on the expense report- well, you get the idea.
Fortunately for me (and my son), Victor bought Tracker Suite. This application has made life a lot easier for everyone at Bizco. Here's how it helps me with payroll services:
Time Tracker - As you may have guessed, getting paychecks out on time is a big job. With Time Tracker, our staff can create and submit time cards through Notes or even the Web! The Web enablement is a great feature, because we have a very mobile workforce, and now they can report time wherever they are, so no more delays! Managers can also review and approve submitted time cards through Notes or over the Web, and automatic approval routing ensures that submitted time cards are delivered to the correct approver. Now, as soon as I receive a time card for billing and payroll, I know it's gone through the right channels! Also, every pay cycle, I need to process all time cards and make sure that paychecks get to the employees. To keep everyone on schedule for payroll, I run an agent to remind employees who haven't submitted their time cards. This agent also sends a notification list to each employee's supervisor.
Expense Tracker - With Tracker Suite, our employees can submit expense reports in Lotus Notes or the Web, allowing them to report expenses in a timely manner, which makes my job as a payroll manager much easier. Like Time Tracker, expense reports are automatically routed to the correct approver for review, so I rest easy knowing every expense I process has legitimate approval.
Data Warehouse - As soon as time cards and expense reports are validated, approved and processed each item is automatically tallied in Data Warehouse where I can export them as payroll slips. I can also produce real-time reports on-the-fly by payroll period or employee. I make sure to process payroll from line items to our external payroll system.