Contact Automation Centre
If you would like a demonstration of Tracker Suite, we are pleased to offer a free demo. Order yours today online, or call Automation Centre at (520) 882-9287.
Visiting Automation Centre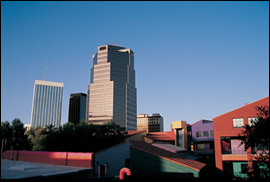 Downtown Tucson
Automation Centre is an Arizona software company. We are located in Tucson, close to the University of Arizona. Tucson offers several excellent hotels, restaurants, and entertainment spots, including:
Scenic golf courses
For more about Tucson offerings, visit www.VisitTucson.org. We would welcome the chance to meet with you to personally discuss our products.
You can contact us via e-mail at info@acentre.com. If you would like us to arrange any activities, such as a golf outing, during your stay, please let us know.