Domino Enterprise Solutions for Executives
Through a Domino enterprise solution, an executive such as Victor Vice President can track the processes that drive the organization and measure results.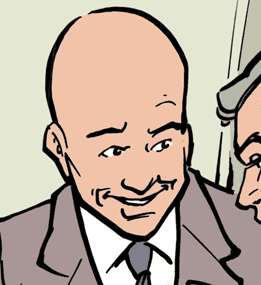 Experience Tracker

Register for a Demo Today
"I start with the premise that the function of leadership is to produce more leaders, not more followers."

- Ralph Nader
My company was in trouble.
Bizco weathered several setbacks last year, not enough to sink us, but it seemed like it took longer for us to bounce back after each hit. But it wasn't just that. Projects faltered and were delayed due to planning mistakes, communication between departments was poor, and employee morale was down due to the lack of communication, the project setbacks and catch-up work. I had to do something.
I invested in Tracker Suite, a Domino enterprise software solution that leveraged our existing infrastructure. No, it's not a magic bullet. Things didn't suddenly get better. But it gave my company what it needed- cohesiveness. Bizco developed from a patchwork network of departments into a whole entity. Tracker Suite didn't just give us tools, it promoted our business intelligence. Across the organization, my employees know what's going on.
I can't emphasize enough how much the enterprise management tools provided by Tracker Suite through our Lotus Notes / Domino platform have helped my company. Let me show you a Flash presentation of how Tracker helps me with Bizco's Bizco's decision-making process. This presentation will appear in a new window, so I'll be here if you need me.
These are some of the Tracker Suite modules I use most, and some of my favorite features: