Sarbanes Oxley Compliance Using Lotus Notes
Overview of Sarbanes Oxley
Note: This article discusses managing Sarbanes Oxley using Lotus Notes. For a discussion of managing SOX with 100% Web based solutions, see this page.
A series of accounting and securities scandals in several large corporations in early 2001 initiated the creation of the Sarbanes-Oxley Compliance Act, which was passed in July 2002.
The purpose of Sarbanes Oxley (SOX) is both to enforce accurate financial reporting and to drive the development of stronger internal processes and controls within those organizations for the creation and management of financial records and approval procedures.
What Sarbanes Oxley Means to Management
The Sarbanes Oxley Act lays the ultimate responsibility for accurate, legitimate quarterly and annual reports square at the feet of executives. Under Section 302 of the SOX guidelines, these persons must certify the veracity, wholeness and accuracy of their quarterly and annual reports. They are responsible for the establishment, maintenance, effectiveness and monitoring of internal controls.
How Tracker Suite Facilitates SOX
Tracker Suite is an integrated suite of Lotus Notes business applications that work together to automate workflow and streamline processes. It provides the internal controls, reporting capabilities and transparency that SOX requires.
Supporting Internal Controls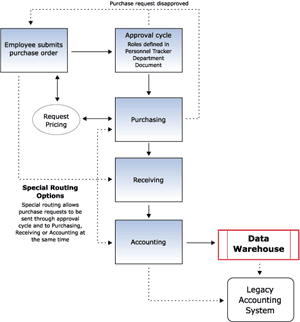 The Purchase to Pay Process
Controlling Financial Processes: Tracker Suite offers applications for purchasing, time and expense reporting (Purchase Tracker, Time Tracker and Expense Tracker, respectively), that establish and enforce legitimate approval processes, as well as generating audit trails for all financials. These applications integrate with Project Tracker, allowing purchases, time and expenses to be tied directly to projects, tasks, account codes and cost centers, improving the accuracy of reporting as well.
Controlling Access to Financial Process: Using Tracker Suite, organizations can effectively manage the security of their financial processes in two ways.

A Role Based Interface: Tracker Suite creates a distinct work experience among Users, Managers and Administrators with a role-based user interface (UI). This UI ensures that control of financial processes stays in the hands of authorized personnel. While a general User can submit a timesheet, expense report or purchase order, only a person with an Accounting role can review and process financial items.
Managing Accounts: Using Asset Tracker, organizations can better control access to financial processes. Computer accounts to payroll, financial records and statements, can be provisioned through Asset Tracker. This ensures that when personnel with Accounting roles leave the company, their accounts to these systems are closed or reassigned upon their termination.
Improving Reporting
As well as accurate reporting, Section 409 of the Sarbanes Oxley Act requires that organizations report:
..on a rapid and current basis such additional information concerning material changes in the financial condition or operations...
Simply by moving purchasing, time and expense reporting to the electronic workflow provided by Tracker Suite, organizations greatly accelerate the timeliness (as well as accuracy and security) of reporting, compared to paper based systems or basic spreadsheet routines.
With the release of Tracker Suite 8.0, using Web services integration, organizations can leverage real-time posting of purchases, time and expenses. The Tracker Data Warehouse, a Web based reporting engine, receives data from all the Tracker Suite modules as well as legacy Accounting and HR databases, to generate up-to-date, comprehensive reports on the financial condition of the company, including balance sheets, income statements and capital expenditures. The Tracker Data Warehouse provides a single point of access to all financial reports for the organization.
Advantages of Lotus Notes for SOX
By leveraging the Lotus Notes platform, organizations also solve the general issues of deploying a SOX solution as well. One of the hurdles in achieving SOX compliance for large companies is the priority assignment in instituting controls in business units throughout the organization. A large company is forced to review and select those that represent the critical areas of their financial reporting.
However, because Tracker Suite simply extends the existing Lotus Notes infrastructure and leverages the Notes experience of the users, both deployment and user adoption are rapid, placing the organization on the fast track to accurate financial reporting.
This integration with Lotus Notes allows Tracker Suite products to scale easily with the organization. For growing companies, this can greatly simplify compliance with Section 404 of the Sarbanes Oxley Act This section requires that Management accept responsibility for establishing and maintaining internal controls, submit an evidence-backed assessment of effectiveness every fiscal year, and have that assessment reviewed and validated by the public accounting company performing the organization's audit. For growing organizations, this scalability spares Management from having to review and sign-off on new, larger solutions, deploy them and prove their effectiveness, from year to year.
Experience Tracker Suite
Automation Centre is pleased to offer a free demo of our solutions. To order your demo, please call Automation Centre today at (520) 882 - 9287 or register online.