Design for Six Sigma Using Lotus Notes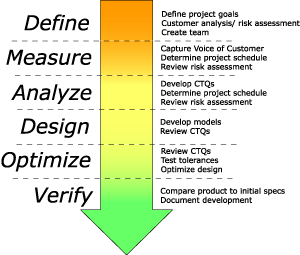 The DMADOV Process
Tracker Suite allows organizations to create a Designed for Six Sigma (DFSS) work environment using their Lotus Notes platform. Tracker Suite provides the tools and functions the organization needs to measure, track and manage their product development from start to finish, in accordance with DFSS.
There are several flavors of Designed for Six Sigma, each with different phases based on the demands of particular industries, including DCCDI, IDOV and DMEDI. One of the more popular flavors, which will be discussed here, is DMADOV.
Define - Define project goals and customer needs.
Measure - Measure customer requirements, review industry and competitor benchmarks.
Analyze - Review information, generate concepts and develop processes.
Design - Review risks and financial, begin build of models, analyze ongoing development.
Optimize - Review initial design, test for tolerances, optimize design.
Verification - Review initial design specifications and predictions against final product.
Though Lotus Notes / Domino, Tracker Suite provides a development environment which lends itself easily to the DMADOV methodology.
Document management - Tracker Suite provides a secure, centralized location for important project materials necessary for each phase of a Design for Six Sigma methodology, such as project scope and risk assessment documents in the Design phase, or project scorecards and final analysis documents in the Verification phase.
Workflow - Tracker Suite provides a development regimen from the initial definition of project objectives and goals to the final product analysis. By providing tools for automatic routing and notification, document security and activity logging, task management and project templates, Tracker Suite streamlines the development of products. Tracker Suite also provides process tollgates which ensure that each phase is completed according to specification before the development proceeds.
Project and resource tracking - Tracker Suite collects data from the various organizational communities: personnel, projects, IT and financial, and compiles it into the analytical reports necessary to develop projects effectively according to DFSS methodology.