The Purchase to Pay Process in Lotus Notes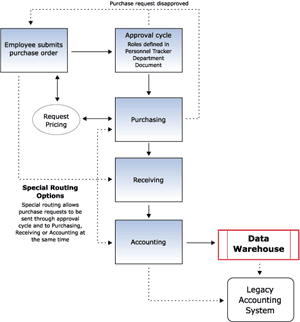 Purchase to Pay Process
In the wake of the Sarbanes Oxley Act, the need for stronger internal financial controls has grown, particularly the need for stricter purchase to pay (also known as procure to pay) processes.
Tracker Suite's Purchase Tracker provides a Web enabled solution for the purchase to pay process, from vendor relationship management to final invoicing and reporting of purchases.
Purchase Tracker provides a vendor database for better vendor relationship management. Purchase order forms are automatically populated with address and contact information after a vendor has been selected.
Purchase Tracker enforces strict approval routing of purchase orders, with electronic signatures to track document activity throughout the process.
Purchase Tracker improves the PO number assignment, tracking and invoicing of approved purchase orders.
In addition, through the Tracker Data Warehouse, Tracker Suite can generate detailed financial reports based on the current data in both the Tracker databases as well as your legacy accounting systems. These reports can be used to track your organization's procurement costs and make effective decisions regarding future purchases.